Pooya Karimian
Blog Archives: BenQ M310 Mouse on Linux
« Liquid Sunshine | Main | Open Source Community Releases »
October 27, 2004

BenQ M310 Mouse on Linux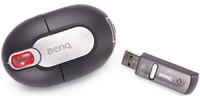 I've bought this small mouse for my laptop (that's also new, a Dell Inspiron 600m). It is a nice small, easily portable mouse, with a self-contained wireless dongle.
I had some problems with using that on my Fedora Core 2 Linux installtion which is solved by applying this patch to kernel. I wish this patch is applied to the kernel with Fedora Core 3 which will appear in two weeks.

- BenQ M310 Wireless Optical Mouse
- ThinkGeek :: BenQ M310 Optical Wireless Mouse
- BenQ M310 PC Magazine Review
Update (2005-08-07): This patch is applied in newer kernels, but seems like there are some people out there having problem using m310 mouse with Gentoo. Check out this thread in Gentoo Forums. It may help.
---
Posted to Computer by pooya at October 27, 2004 12:01 AM

---