Pooya Karimian
Blog Archives: Again Firefox!
« The Browsers War | Main | Morse code vs. SMS »
April 30, 2005

Again Firefox!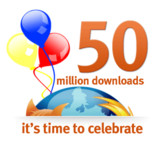 I was there in mozilla.org IRC with Asa, Blake and other guys when the 50,000,000th Firefox was downloaded. I printed out a grayscale version of this and put that outside my room. Some people are more focusing on browsers' security, as in this CNET News.com's story. This is my comment to that report:
"Well, while security is really an important matter but it is also important to have a browser which supports standards, actively developed and easy to customize. Open source software will never die as far as users feel the need. It is so powerful that it can even drive other companies to listen to the users and not just do what they want to do. That is were security fits too if looking in the correct direction: it is not that hard to imagine an open-source project to redesign the whole code if needed, but it is totally a fiction for big companies to do that. These are just some of the reasons why I believe Firefox is the best browser around."
---
Posted to Network by pooya at April 30, 2005 01:15 AM

---